Innovative Beauty Conference 2019
Don't miss out on the opportunity to grow your business and find out about the latest industry developments:

Just one days learning can turn your business around and update you on the key innovations in the industry
Need more information first?
BABTAC are absolutely delighted to be launching our Inaugural 'Innovative Beauty' One Day Conference ahead of the glittering gala event & awards ceremony in the evening. We are bringing together some of the most respected figures in the industry to cover the issues that matter most to you. Held at the beautiful Castle Hotel in Windsor, it will be a fantastic day away from your salon. As well as talks throughout the day, you will also have the chance to network and exchange ideas with other industry professionals.
The BABTAC & CIBTAC Awards already command respect as a key date in the beauty industry calendar. Our conference is a natural progression in providing further opportunity for likeminded innovative industry players to gain the most benefit out of a single day. Education, professionalism and industry development are central to our organisations philosophy and this is the perfect event to showcase innovations, up-skill our members and celebrate excellence while collaboration and networking amongst industry players.
Make this the year that you take time to invest in you and your business!
When?
15th September 2019
Where?
Castle Hotel, Windsor
Who?
The conference will feature top industry experts and speakers, with a focus on relevant and dynamic factors at play and how to ensure competitive advantage in our challenging and constantly evolving sector.

For more information on our 2019 conference speakers please CLICK HERE
Our conference will provide practical advice to develop and build your business and will include an update on the very latest treatments and innovations, everyone should leave the day feeling inspired, motivated and re-energised.
How?
Whether you were already planning on attending the awards ceremony and would now like to include the conference or just wanting to attend the conference itself there are ticket options available for you. The conference is also open to non-members, however members benefit from discounted rates. Your ticket price will include a welcome drink and a snack, a delicious hot and cold buffet lunch and afternoon tea and coffee.
Tickets are limited and we expect to sell out fast so book now to avoid disapointment. Members can take advantage of a reduced rate... (rates below are all exclusive of VAT)
Conference £70
Awards Dinner £80
Both Events £130
Tickets also represent great value for non-members...
Conference £85
Awards Dinner £95
Both Events £160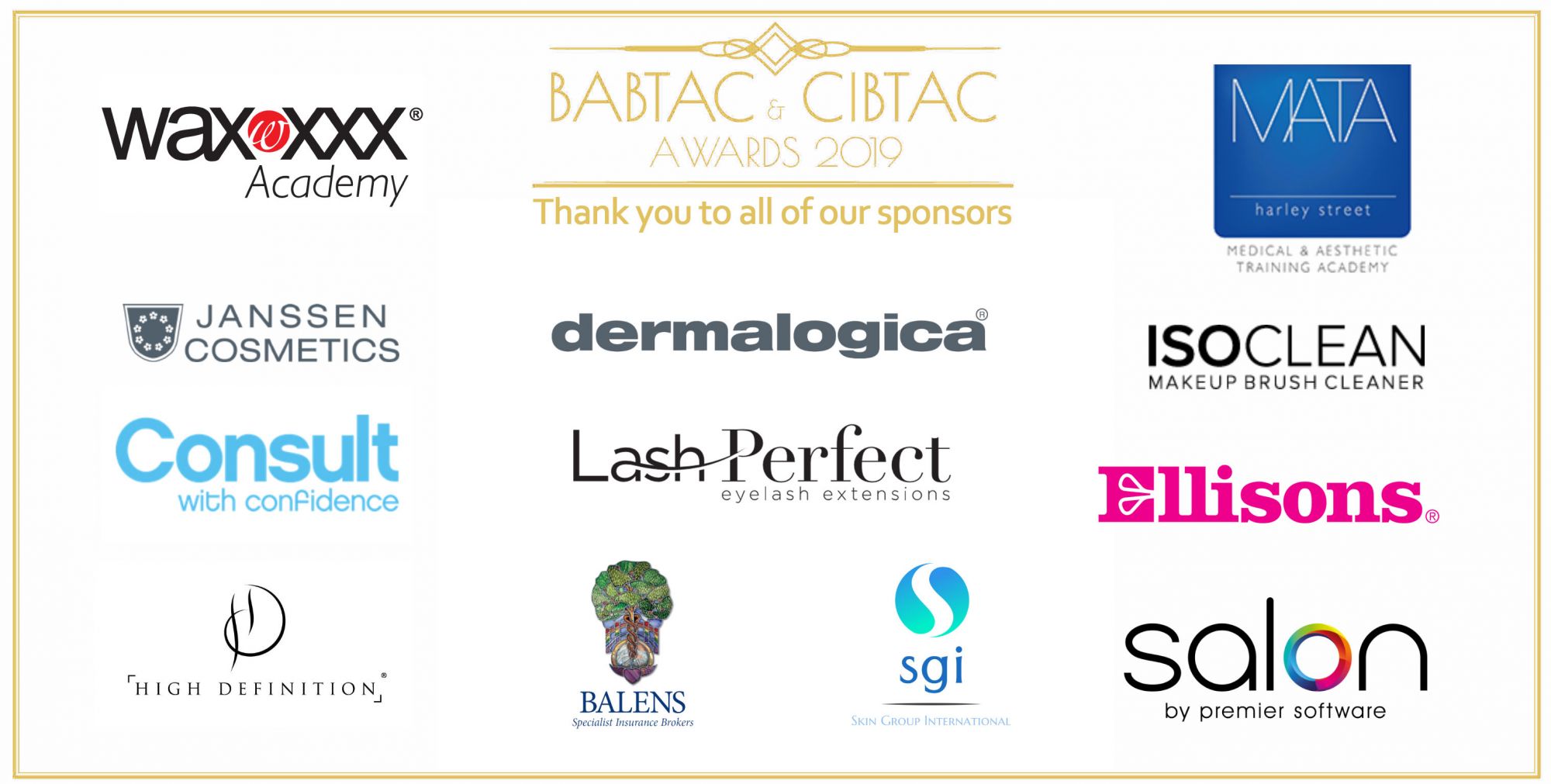 Our expo area will feature a stand from all of our amazing sponsors (see below) providing an ideal opportunity to find out more about products, services or treatments in a relaxed, unpressurised environment.
WaxXXX - Sponsors of Waxing Therapist 2019
MATA - Sponsors of Innovator 2019
Consult with Confidence - Sponsors of Small Salon 2019
Dermalogica - Sponsors of Entrepreneur 2019
Balens - Sponsors of CIBTAC Centre 209
Premier Software - Sponsors of Large Salon 2019
Ellisons - Sponsors of Beauty Therapist 2019
High Definition - Sponsors of Brow Specialist 2019
Lash Perfect - Sponsors of Lash Specialist 2019
Janssen Cosmetics - Sponsors of Advanced Aesthetician 2019
Skin Group International - Sponsors of CIBTAC Student 2019
Skin Group International - Sponsors of CIBTAC Tutor 2019
For more information on our sponsors please CLICK HERE