BABTAC Ambassadors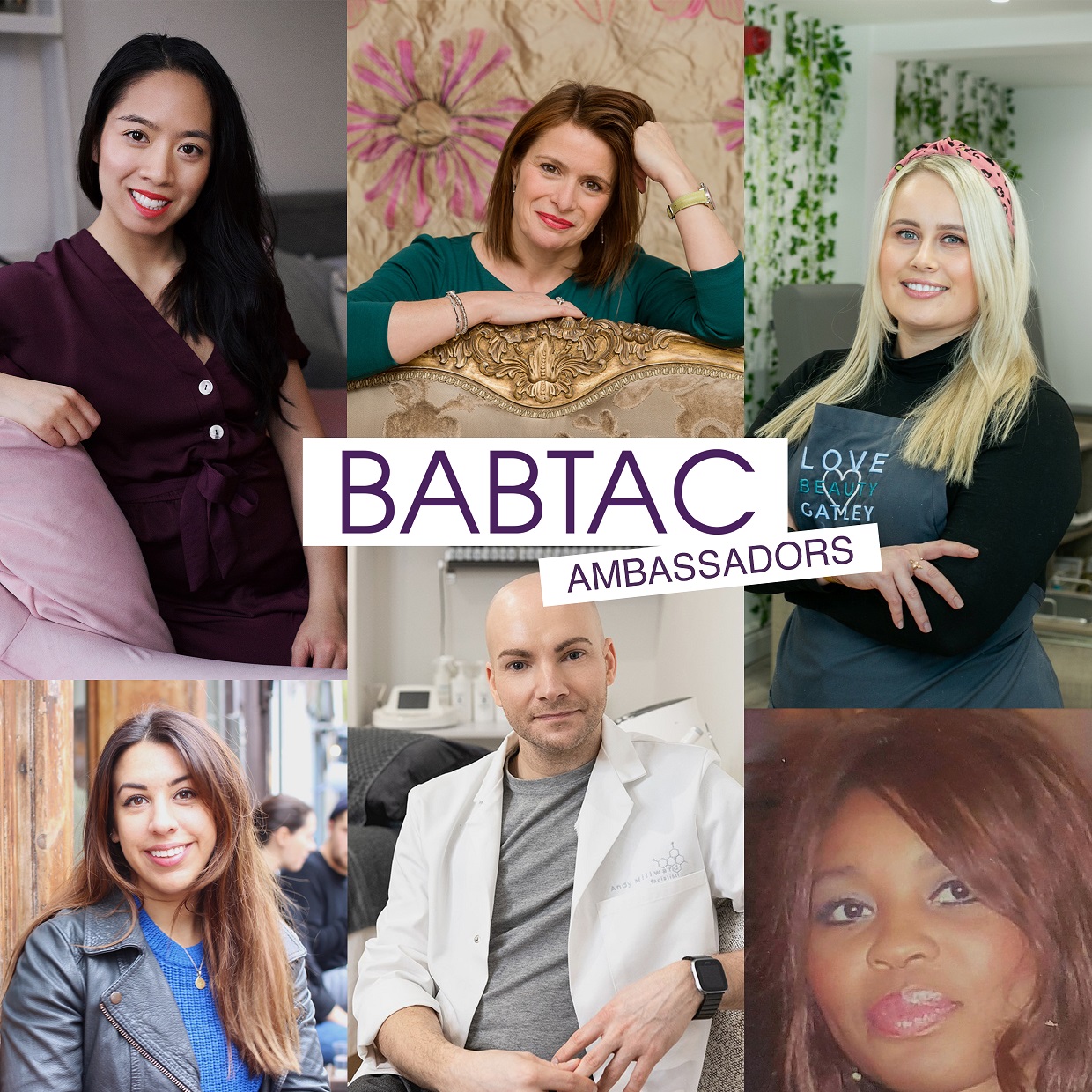 As a not-for-profit organisation and one of the UK's leading membership organisations and insurance providers set up to raise the level of professionalism in the beauty, holistic and sports therapy industries, BABTAC (British Assocation of Beauty Therapy & Cosmetology) tirelessly continues to campaign for the introduction of a suitable form of regulation while currently self-regulating their own members. All with the objective of protecting the public, as well as giving reputable professionals the recognition they deserve. Living by their moto 'Qualified, Verified, Insured'.
This June sees the launch of the BABTAC Ambassadors. A group of expert individuals and BABTAC Members located up and down the country, who will provide further represention of our organisation's 10,000 plus members. This influencial team will support our overarching objective - promoting the very best standards within the industry - while advocating important messages through their own peer to peer channels to further the exposure of essential campaigns, such as #MakeBeautySafe.
The BABTAC #MakeBeautySafe campaign was launched to lobby for a safer beauty industry, including, but not limited to preventing those with little or no training from establishing themselves as a 'professional' therapist. The campaign went viral at the end of last year, supported by long standing BABTAC member Caroline Hirons. The press caught on and the signatures started rolling in, but there's still some way to go to get to the numbers to be able to take the petition to Government.
Meet the ambassadors
Justine Mitchell, salon owner and business expert (centre top)
Located in Edinburgh
Justine Mitchell started her professional career as an employment lawyer before moving into the beauty industry in 2010 when she launched Chamomile Sanctuary, a luxury boutique day spa at Edinburgh's West End which has won several prestigious awards. Justine herself has also been awarded Inspirational Women of the Year at the Businesswomen Scotland Awards and has also sat on the judging panel for the UK Professional Beauty Awards. As well as being an extremely successful businesswoman, Justine, is mum to Monty aged 13 and has served as a director of Dundee United Football Club where she launched their Women's Football Club.
Andy Millward, advanced facialist (centre bottom)
Located in Birmingham
Andy Millward is an Advanced Facialist with 8 years industry experience and qualified with a CIBTAC Level 4 Aesthetics Diploma. Andy specialises in advanced skin treatments and has a passion for skin health and corneotherapy. Andy been a member of BABTAC since 2014, as well as a member of IAC (International Association of Applied Corneotherapy), the Black Skin Directory and is a Beauty Backed Trust Team Member. Andy has also previously worked as a CIBTAC Level 4 Tutor and brand educator alongside his clinical work.
Whether it's problematic skin concerns or high-tech treatments, Andy is the go-to for questions on all things skin.
Metta Francis aka Nails by Mets, awards winning nail technician and session manicurist (left top)
Located in London
Metta Francis is a multi award winning nail technician and nail artist, with over 10 years industry experience. With her London based mobile business, Nails by Mets, Metta provides a luxury mobile nail service from corporate nail bars to private home visits. Metta also works as a nail expert, content creator and session manicurist; she is a regular backstage at London Fashion Week and behind the scenes on photo and videoshoots. With a background in IT, business and marketing, Metta also has a huge passion for helping other nail technicians and beauty pros with their businesses - from social media marketing to setting up an online retail store and website, to creating eye catching graphics.
Lola Kenyon, Founder of Beauty by Lola, beauty therapist and lash, brow and nail technician (right bottom)
Located in Huddersfiled
Lola Kenyon is a beauty pro with many strings to her bow. Lola is is a qualified beautician, massage therapist, body therapist, makeup artist, HD Brows master stylist, Nouveau Lash technician, mentor for Elim Medi Pedicures, Navy Professional Brand Champion, BA for Painted and Posted accessories and has been a BABTAC member for 15 years. Lola is an experienced professional whose business continues to go from strength to strength.
Katie Millington, award winning salon owner and eco-concious business owner (right top)
Located in Cheadle, Greater Manchester
Katie won 'Best Business Pivot during COVID-19' at the BABTAC Inspiring Beauty Awards just this year for creating Gately Refillery, which encompssaes refillable shopping options as well as continuing to offer top class treatments through her salon Love Beauty Gately. Katie is a salon owner and spa business management graduate with a passion for helping others elevate their business, whilst becoming more eco-aware. Taking pride in creating positive environments for happy and comfortable clients and team members.
Katie White, Founder of re:lax Skin Studio (left bottom)
Located in London
Katie is the founder of re:lax, a Skin Studio and Skin School based in the Gossamer City Project in London, with a mission is to help people achieve healthy skin by enabling clients to better understand what is happening internally. As an award winning therapist herself, Katie is passionate about education, and at the Skin School, has developed courses to help supports students in finding success, teaching them how to work intuitively and with intention, so that they have the confidence to apply the knowledge they learn, rather than just learning "routines". Katie and her team believe that this is the difference between a good therapist and a great therapist.