Awards 2022
We are delighted to announce that our BABTAC & CIBTAC Annual Awards are back!
After having to postpone our Awards and Conference scheduled for last September, we are absolutely delighted to announce that this amazing event will be returning on the 8th May 2022. The Awards Gala Dinner and Celebration will be hosted the same evening as our Annual BABTAC Beauty Conference, both at the incredible Fairmont Windsor Hotel, a new jewel in the Fairmont Family Crown.
Applications are now closed and the judging aseessment process is underway. Semi-Finalists will be announced around the 10th January 2022. We have had an overwhelming response and we wish all of those who have enetered the very best.
The categories are:
Advanced Aesthetician, BABTAC SCA Centre, Beauty Therapist, Brow Specialist, CIBTAC Centre, CIBTAC Tutor, CIBTAC Student, CIBTAC Endorsed Centre, Digital Marketing, Employer of the Year, Facialist, Holistic/Massage Therapist, Individual Salon, Large Salon, Lash Specialist, Make-Up Artist, Mobile Therapist, Nail Technician, Small Salon, Spa, Waxing Therapist
For those of you who attended our last Awards Celebration in 2019 we promise our next will not disappoint. In fact we believe it will be even better. These awards are an industry highlight each year and always a fabulous and glamorous sold out event.
If you would like to see further details about our Annual BABTAC Beauty Conference taking place the same day ahead of the Awards Gala Dinner please click here
Tickets are now available to purchase online (click here) or you can contact finance directly on 01452 623 112
Ticket Prices (ex VAT) are as follows:
Conference Tickets £60
Member Awards Gala Dinner & Conference Ticket £145
Non Member Awards Gala Dinner & Conference Ticket £165
Member Awards Awards Gala Dinner Tickets £105
Non Member Awards Gala Dinner Tickets £120
As always this prestigious event would not be possible without our incredible and supportive sponsors. Please click on the image below to read more.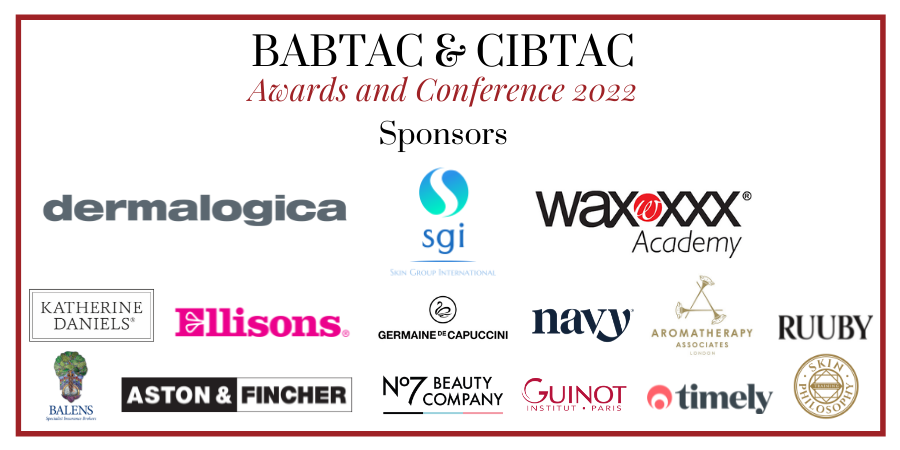 If you would like further information please contact the Awards Team on 01452 623 116 or e-mail us at awards@babtac.com