Unless you have the relevant dental qualifications, are still registered and have appropriate insurance, teeth whitening is not a treatment you should be adding to your list.
Visitors to Professional Beauty in February 2016 may have noticed the protest against the decision to include teeth whitening at the show. This treatment – along with many others such as Botox – have developed from the cultural perception that inextricably links beauty with youth. It's also been made clear by the courts or manufacturers that they should only be administered or prescribed by medically qualified practitioners.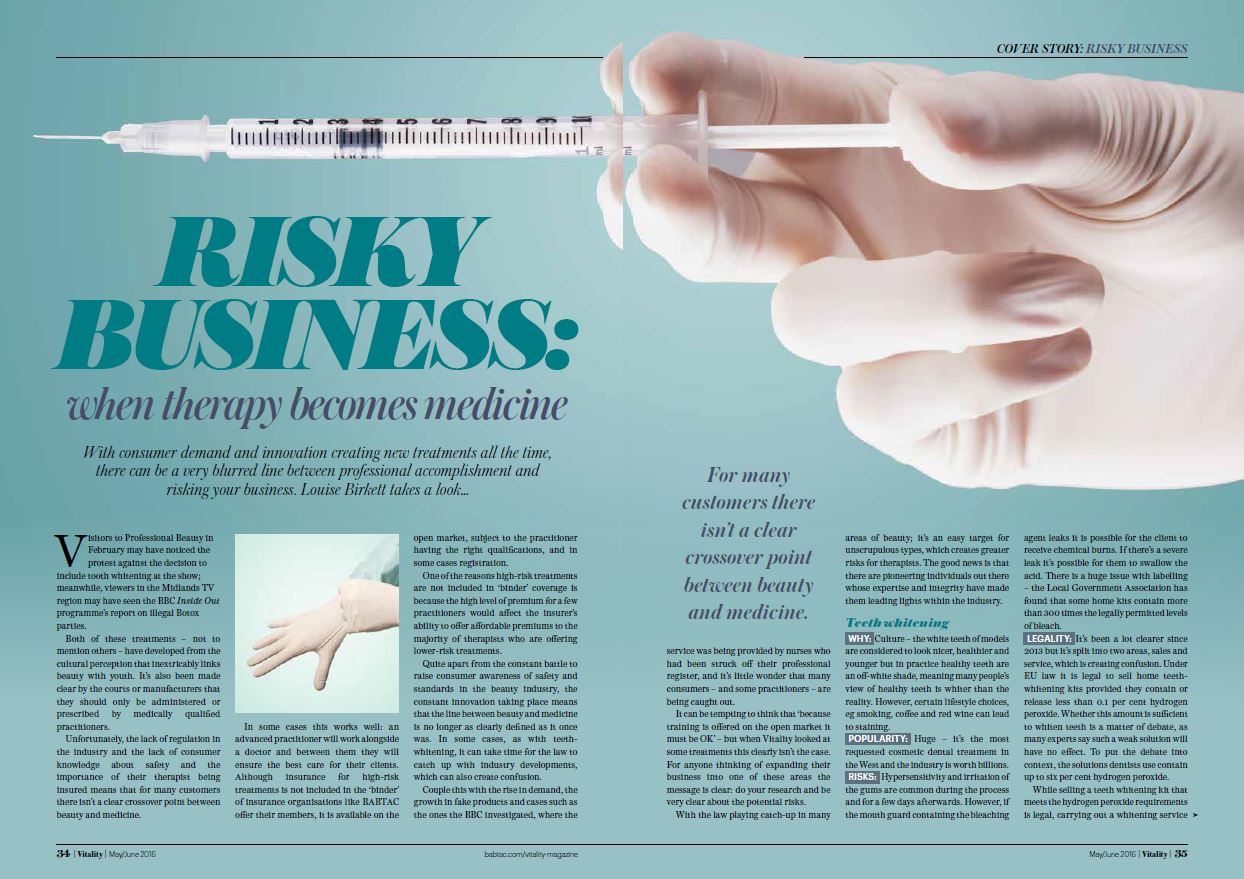 Unfortunately, the lack of regulation in the industry and the lack of consumer knowledge about safety and the importance of their therapist being qualified, verified and insured means that for many customers, there isn't a clear crossover point between beauty and medicine.
Aside from the constant battle to raise consumer awareness of safety and standards in the beauty industry, the constant innovation taking place means that the line between beauty and medicine is no longer as clearly defined as it once was. As with teeth whitening, it can take time for the law to catch up with industry developments, which can also create confusion.
Couple this with the rise in demand, the growth in fake products, and cases such as those investigated by the BBC on illegal Botox parties in which the service was being provided by nurses who had been struck off their professional register, and it's little wonder that many consumers – and some practitioners – are being caught out.
Popularity of teeth whitening

Teeth whitening is hugely popular – it's the most requested cosmetic dental treatment in the West and the industry is worth billions. Why? Culture – the white teeth of models are considered to look nicer, healthier and younger, but in practice healthy teeth are an off-white shade, meaning many people's view of healthy teeth is whiter than the reality. However, certain lifestyle choices, such as smoking, coffee and red wine, can lead to staining.
Risks of teeth whitening
Hypersensitivity and irritation of the gums are common during the process and for a few days after. However, if the mouth guard containing the bleaching agent leaks, it is possible for the client to receive chemical burns. If there's a severe leak it's possible for them to swallow the acid. There is a huge issue with labelling – the Local Government Association has found that some home kits contain more than 300 times the legally permitted levels of bleach.
Law regarding teeth whitening
The law has become a lot clearer since 2013, but is split into two areas: sales and service, which is creating confusion.
Sales
Under EU law it is legal to sell home teeth-whitening kits provided they contain or release less than 0.1% hydrogen peroxide.
Whether this amount is sufficient to whiten teeth is a matter of debate, as many experts say such a weak solution will have no effect. The solutions used by dentists can contain up to 6% hydrogen peroxide.
Service
Carrying out a whitening service (that includes 'treatment, advice or attendance') for a client is illegal under British law as the only people who may carry out teeth whitening are registered dentists, dental hygienists, dental therapists and clinical dental technicians who are working to the prescription of a dentist.
Confusion
Teeth whitening is not specifically mentioned in the Dentists Act 1984 and for this reason became a target for some companies operating within the beauty industry.
The General Dental Council, which is responsible for regulating the industry and carries out prosecutions, argued that the service should be restricted to dentists. It won an important legal judgment in 2013 – the case of GDC vs Jamous – where high court judges agreed with its arguments.
Subsequent court cases have further tightened the law – it is now also illegal to offer a service where a therapist hands a client a tray containing a kit for home use, provides instructions to read, hands the client dark glasses, sets a timer or places a 'laser' device near clients' teeth or to remove equipment after treatment. These are all considered to fall under the restriction in the Dentists Act that prevents anyone who is not a dentist from giving 'treatment, advice or attendance'.
In some good news for therapists, a county court ordered Megawhite to refund the cost of a training course that it had sold to a therapist who did not have dental qualifications on the grounds it would have been illegal for her to carry out the treatment. There have been attempts to appeal the decision, but the courts have refused.
What is the punishment for carrying out illegal teeth whitening?
The maximum fine has been increased from £5,000 to an unlimited amount. In 2015 the GDC carried out 35 prosecutions, with the figure for the first three months of 2016 standing at seven.
Original article featured in Vitality Magazine May/June 2016