The beauty industry often gets criticised for marketing perfection and damaging the environment - issues we've focused on in Vitality - but there's another side to it.
That's the thousands of professionals who donate their time to help people forget their problems for a few hours and feel great about themselves. Whether it's through an international, national or local charity, the results are the same: beauty goes more than skin deep.
BABTAC members are among those offering a helping hand.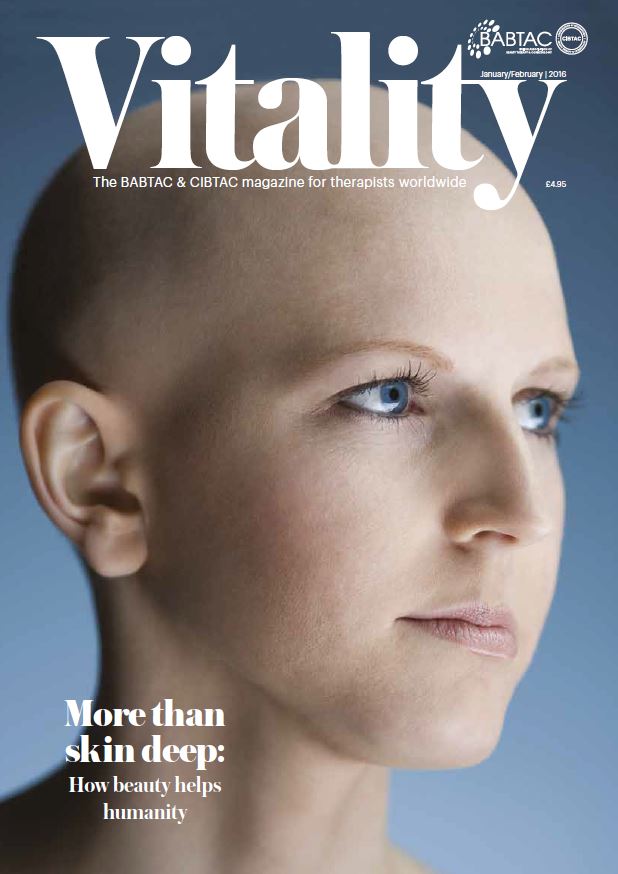 Georgina Grace is a self-employed beautician, who works from her home-based treatment room. Alongside this, Georgina treats people with Alzheimer's, dementia and assisted living patients in a number of residential homes.
Georgina offers therapeutic massage and manicures, and sometimes pedicures and waxing treatments, when requested by the patient's family. She offers her services when the patients are bed-bound, to help with reassurance when they are confused.
Georgina says:
'Most of us work with our colleagues or clients and come the weekend or end of the day, merrily say "see you next week". This does not always happen for me. At times it can be difficult and upsetting but it makes you evaluate life and how fragile it is. I have learnt over the years to appreciate what I have and to do my best for my clients', whatever stage of life they are at.'
Leanne Cleveland, who has been in the beauty industry for more than 20 years, also gives her time to a local charity. Once a month Leanne helps FAB (Fabulous and Beautiful), which hosts an event in Epping, where ladies who have cancer can seek advice from a stylist, helping them learn to dress after a mastectomy. They also have their make-up done, with lash treatments, manicures and pedicures, and receive a take-home goody bag.
Leanne helps out every month that she can. The event is free and relies on volunteers to run it. Meanwhile, Diane Tyrrell gives her time to MIND, a charity that helps people with mental health issues. Through MIND, Diane has taught six ladies the skill of Indian head massage.
Diane says:
'This has dramatically changed their lives, giving them more confidence and the ability to come out of their comfort zones and attend a course each week to gain a qualification. The change in their mindset and outlook on life is amazing, and they have had a purpose, having enjoyed the course and had fun while they learn.'
Camouflage Make-Up
Camouflage make-up plays a huge role for people who have suffered from appearance-altering conditions, and can be used to alleviate the psychological, physical and social effects that an altered image can have on someone's life.
Make-up cannot alter the structure of the skin or improve its appearance permanently, but the immediate visual effect can help the person to regain self-esteem, which can result in improved general health and better quality of life.
The Skin Cancer Foundation states:
'One of the unfortunate after-effects of excisional surgery is that it often leaves a scar. Fortunately, cosmetics can take away much of the self-consciousness following facial surgery by covering post-surgical bruising, puffiness, and scars. They can also aid in concealing non-surgical-related problems such as port wine stains, severe acne scars, or vitiligo. Cosmetics work in two ways: by using colour theory to diminish the appearance of a scar or other defect, or by completely concealing the problem through a layer of foundation or camouflage make-up.'
Someone who has experienced a need for cosmetics to assist with the effects of cancer is Veronica Koppelman, who, when suffering from breast cancer, found there wasn't anything available on the market that met her needs. Having compared notes with fellow sufferers, she noted that chemotherapy left skin more sensitive, meaning regular beauty products were no longer an option.
Veronica began to research products that would not cause irritation or harm. From speaking to like-minded women, she knew that everybody wanted beauty products that created eyebrows and lashes that looked real, to replace those that had been lost.
Veronica's solution was an everyday instant eyebrow product, using brush-on hair fibres, creating a natural look that only takes seconds to apply. That was followed by semi-permanent eyebrows, which use real individual eyebrow hairs together with a medical grade glue to create eyebrows that are waterproof and last around three weeks.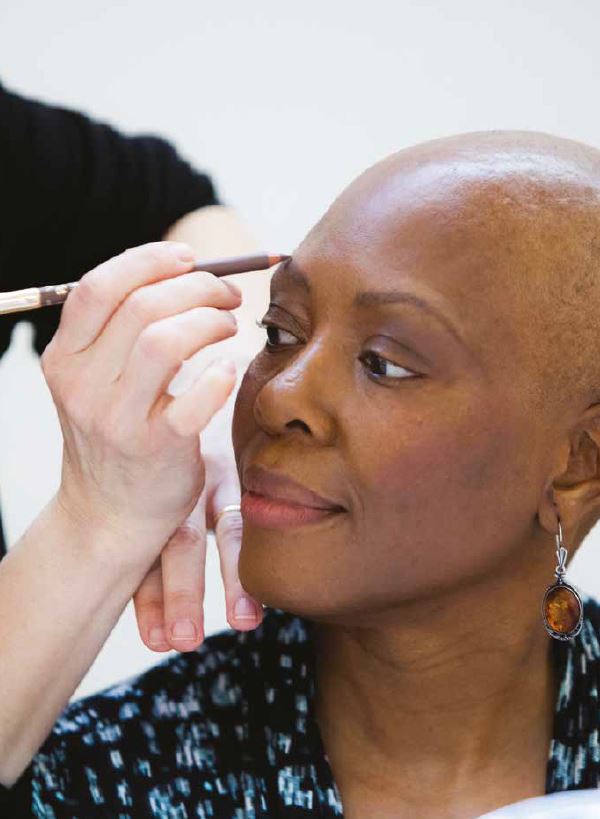 Encouraged by the positive response to her products, Veronica went on to create a semi-permanent mascara that's light enough for those with weak lashes to wear and doesn't make them weaker. Next, she set about finding a natural serum that speeds up hair growth and gives cancer patients their own hair within a matter of weeks.
During this time, Veronica re-trained in beauty and added teaching to her skill set. Her products came to the attention of Angela McCallum of Brow Art Studio in Scotland, and with a shared passion for perfect brows and lashes, they decided to collaborate.
Veronica says:
'We both felt that there were certain areas in the industry that were just not as good as they should be. One of those key areas was how consultations were being carried out. After our research it became clear that there were few or no consultations being done with the clients.
'It was clear that something had to be done to allow the real professionals to be able to offer a bespoke, in-depth consultation with our clients that would take all the key client data to allow a professional brow and lash artist to create the perfect natural looking brow. It had to take into consideration their face shape, skin tones, current brow status, health concerns and many other factors including before and after pictures and also being able to keep a portfolio of the client's full brow and lash history that documents their entire journey through time.
'We feel this is a very important and critical part of our clients' brow and lash journey, which also ensures the best possible service. It all happens right there at the brow chair, ensuring client satisfaction, and is all carried out on a simple digital tablet that the clients love to interact with and makes them feel special.
'We are all very excited to take this amazing new system forward and are proud to have as part of our brow and lash system the world's first ever fully functional and interactive digital consultation at the brow chair.
'I love what I do and would not change this for anything else. It does not feel like work, it makes me happy and I am still celebrating life every day.'

With 21 years of facing cancer with confidence, Look Good Feel Better (LGFB) is the only international cancer support charity providing practical and effective free services for women and teenagers suffering from the visible side effects of cancer treatment.
The charity is dedicated to improving the well-being and self-confidence of people undergoing treatment for any type of cancer, working to help them regain a sense of control and normality at a time when diagnosis and treatment has taken over their lives.
Many BABTAC members help LGFB run free make-up skincare workshops and masterclasses, which are held all over the UK for people undergoing treatment for any type of cancer.
By the end of 2015, LGFB had supported more than 16,000 women and teenagers through workshops, masterclasses and self-help materials, with over 1,800 volunteer beauty consultants offering their support.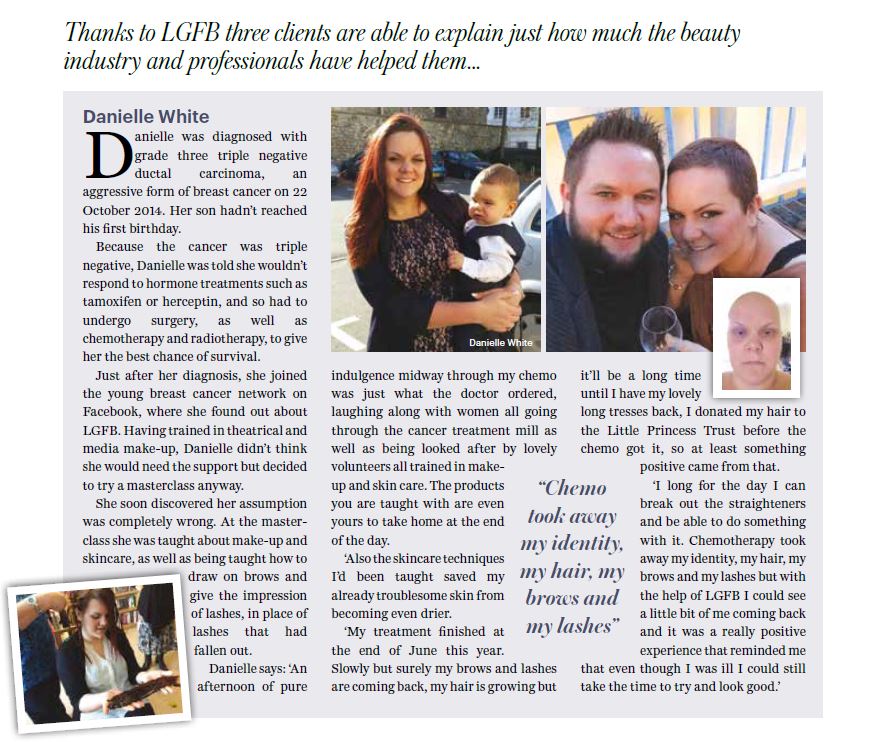 ---
Read the rest of this feature in our Vitality January/February 2016 issue online here.
Original feature article from Vitality January/February 2016.
Thanks to Look Good Feel Better for supplying photographs to accompany this feature.